ADDITIONAL LINKS:
---
YOUR CONTRIBUTION HELPS
CLICK HERE
---
Assist Us in Furthering the Appreciation of The New
Millennium Oral History Archives
---
Founded August A.D. 2000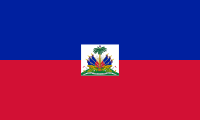 The Haitian Oral History Archive
The Haitian Oral History Archive is of one many departments of New Millennium Oral History Archives (www.oralhistoryarchive.org) and quite an important one –which we trust will take its place alongside Steven Spielberg's University of South California's Shoah Foundation Institute and Columbia University's Oral History Collection. This Archive is an expressly historical and educational in character. The principal work of the Archive is to videotape, record and transcribe the testimonies of families, individuals, NGO's, religious and countless others who survived or were impacted by the preeminent catastrophe in the 206- year history of the Haitian republic- namely, the 7.0 magnitude earthquake in the early evening of Tuesday, 12 January 2010.
We believe the Haitian people are a hardy and heroic people- having the distinction of becoming the first independent black republic in the New World. Haitians can properly take ancestral pride in this monumental achievement, and draw strength for the laborious struggle that lies ahead in rebuilding lives, homes, infrastructure, and much else.
As the international media (with their klieg lights and cameras) ineluctably fade away (other hotspots beckon understandably), the Haitian Archive endeavors to keep as much of the public's gaze on Haiti through video, news and interviews principally from Haiti but also from the wider Haitian Diaspora in the States, Canada and elsewhere. The Archive will partner with Cine Institute in Jacmel, Haiti and other local organizations.
The Haitian Oral History Archive is funded by concerned individuals, institutions, organizations, business communities and sundry government bodies. Crucially, we depend on financial and in-kind contributions, donations, and subventions, therefore all materials and resources from the archive will be free and accessible to all institutions, schools, universities, individuals- in a word to all.
Consequently, we ask and thank you all in advance, for your financial and in-kind contributions (transportation, camera equipment, hotel, housing, and so forth) in achieving this worthy educational and historical undertaking. Your contributions to the Archive are crucial, timely, pivotal-and, hence your assistance on every level is requisite.
Herewith, a supplication- yes, a prayer for Haiti and its people: May its patron saint, our Lady of Perpetual Help, ever assist the Republic of Haiti.
Deferentially,
J. Bailey Morgan,
Director, Haitian Oral History Archive
Versions: English • Spanish • Creole • French